Land-Sea Act project partners took part in the workshop 'Tackling Land-Sea Interactions on the Way Towards Blue Growth in the Baltic Sea Region'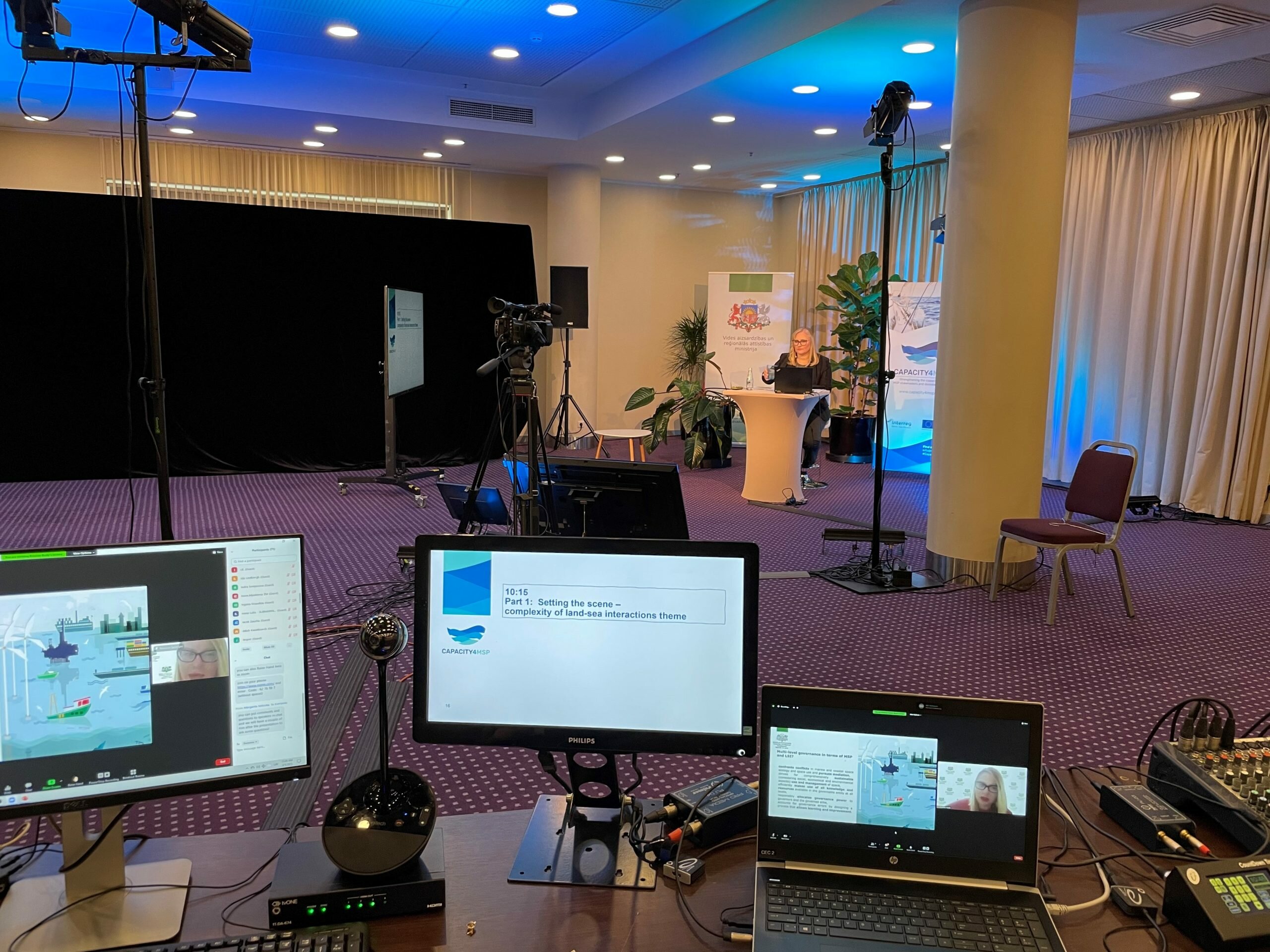 Studio arranged for the broadcast of the workshop, in the centre moderator Kristīna Veidemane, BEF Latvia

On the 3rd of March, 2021, within the project platform Capacity4MSP, workshop dedicated to the land-sea interactions theme took place in the digital format.
The workshop was organised to present and discuss ideas on multi-level governance potential for managing land-sea interactions with the aim to foster and strengthen blue economy in the coastal areas.
Workshop was attended by MSP planners and authorities, regional & local representatives of governance from coastal areas with interest in themes of coastal and marine tourism, offshore wind park developers, cultural heritage experts, researchers; representatives of different sectors (offshore energy, tourism) as well as other sectoral experts.
The workshop included presentations and interactive discussions, but generally it consisted of two parts:
PART 1: Setting the scene – complexity of land-sea interactions
Session included key-note presentations on multi-level governance, blue economy, and well-being of coastal communities in relation to land-sea interactions and marine spatial planning. Including Land Sea Act representatives:
"Foundations and principles of Multi-Level Governance to be transformed in common agenda for BSR" by Kristīne Kedo (Ministry of Environmental Protection and Regional Development of the Republic of Latvia)
"Towards a regional maritime strategy in Gothenburg region – Mapping, measuring and diversifying the blue economy" by Ida Lindbergh (Gothenburg Region) (read more about Land Sea Act Swedish case here)
"Coastal landscapes, social wellbeing and cultural sustainability" by Hannes Palang (Tallinn University) (read more about Land Sea Act Estonian case here)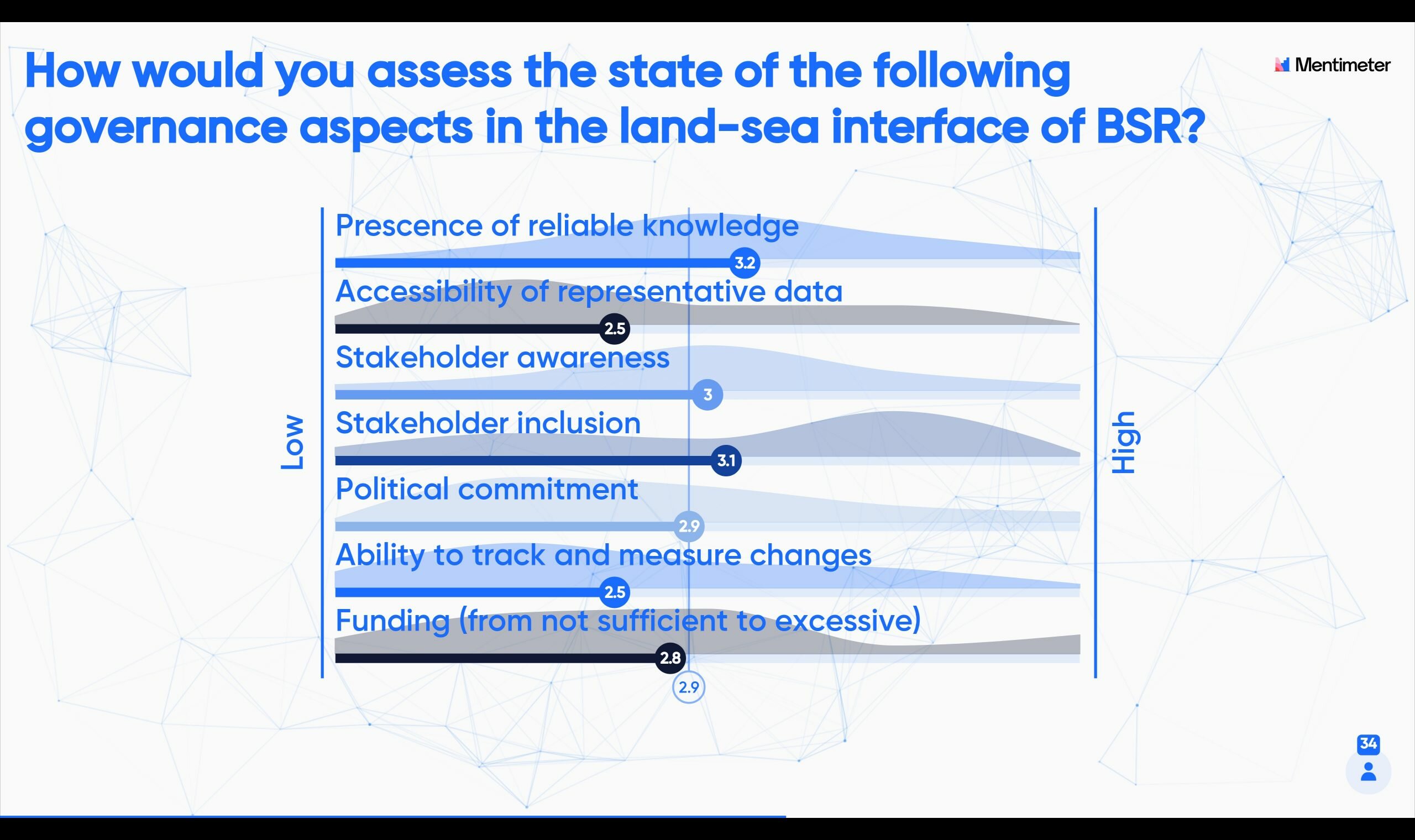 Figure: Participants votes on the question "how would you assess the state of the following governance aspects in the land-sea interface of the Baltic Sea region"
PART 2: Getting to know good practices of consideration of land-sea interactions and challenges ahead
Three short sessions with presentations and panel discussions on:
1) Offshore wind parks & coastal communities,
2) Coastal tourism & coastal environment,
Including Beate Burow (Environmental Department of Fehmarn Municipality, Germany) (read more about Land Sea Act German case here)
3) Marine/coastal cultural heritage and identities of coastal communities.
All parts also included interactive Q&A and discussion elements.
During the whole workshop experts also expressed that:
integrated planning for land and sea or "one space perspective" is possible, but there are shortcomings we all need to address
large scale spatial plans with ambitious measures and priorities for coastal areas could help dealing with LSI issues
there is a strong need for more education on the land-sea interaction issues
the power games are very important in small (local) communities where community leaders have a great role in moving things forward
within Blue economy all value chains should be explored comprehensively.
Workshop summary can be accessed HERE.
Final agenda HERE.
Presentations from the workshop can be found at the Capacity4MSP webpage: https://vasab.org/event/workshop-land-sea-interactions-towards-blue-growth-in-the-bsr/
Prepared by Margarita Vološina (Ministry of Environmental Protection and Regional Development of Latvia) / April 2021